CCleaner Free
4.18
Professional CCleaning Service
I'm sure everybody has witnessed an operating system perform slower and slower until they spend minutes just booting up. As it appears, operating systems are not as tidy as we might want them to be. We all know The system registry becomes clogged with data from long past and the task manager is starting to look like Santa Claus' present list (except it's not). Also temporary files are somewhat permanent for some reason. So what are we supposed to do about it? Re-installing might be an option, but it's often too radical. Instead we should look for a tool that supplements that lazy OS in the cleanup department. Ah, there's one!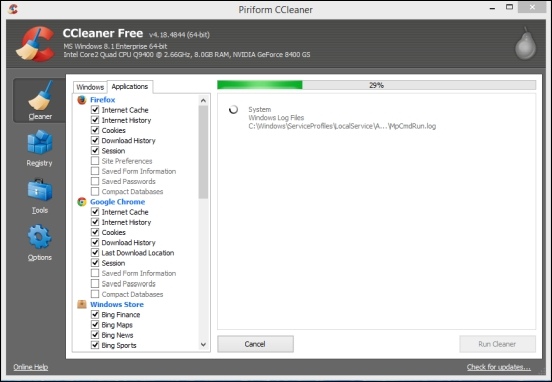 Mop up
CCleaner is littered with check-boxes from here to... oh wait, this doesn't apply. I could say anything but you won't understand my hyperbole because you don't know where I am. Anyway, there are hundreds of them, but the're all important as they allow you to save that precious data you don't want wiped out. Because that's exactly what CCleaner is all about, wiping. It has two functions that you will be using more frequently, "Cleaner" and "Registry Cleaner". The other ones are grouped under "Tools", but we'll get to them eventually.
The "Cleaner" is designed to detect and remove frequently aging data such as Recent-this-and-that, Cookies, Recycled files, Memory Dumps and other tasty sounding technical terms. Rule of thumb: Whether it's checked or not, leave it be. Chances are if you don't want something to be removed, you'll know exactly what to look for. It is important to note that CCleaner targets not only the system, but also other applications. For instance you could run it just to clean the cache from Firefox and make InkScape forget what files were recently worked on.
The "Registry Cleaner" on the other hand deals with stuff most mortals dare not. The system registry. It is usually a good idea to run the Registry Cleaner from time to time. Whenever you instruct CCleaner to "Fix issues" you'll get to save a backup registry file, just in case something shouldn't have been messed with.
Other than these we get more maintenance tools that are not needed that often (although the're still useful). You can uninstall programs just as you would using the normal avenue. You can enable or disable start-up programs, browser add-ons, scheduled tasks and context menu appearances. With "File Finder" you can remove file duplicates in a folder or across the entire file storage. You can delete System Restore points and you can permanently wipe data so that no one can retrieve it once it's deleted. Not even you.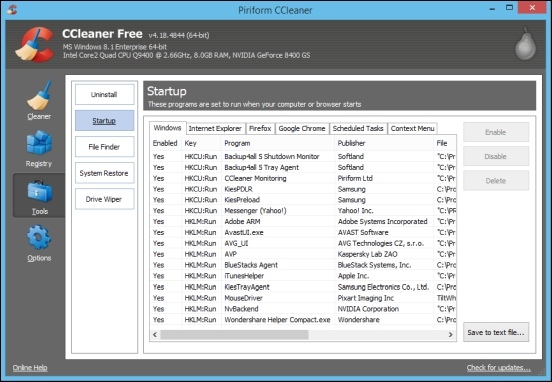 Features
Cleaner - deletes any and all temporary files across the entire system (selectively)
Registry Cleaner - cleans the system registry and creates back-up files
Uninstall - uninstalls programs
Startup - manages start-up programs and tasks
File Finder - identifies and removes duplicate files
System Restore - removes system restore points
Drive Wiper - permanently deletes data
What I would add is that in Options>Cookies you can set which cookie files to keep when Cleaning. This is a life saver when you don't want your browser to forget specific things like your Facebook log in data.
Pros
Very thorough and considerate
Clean interface
Free!
Doesn't brag about the Pro Version
Cons
Well if that's not enough I don't know what is!
Conclusion
I quite love CCleaner. It is a well rounded tool with a lot of ways to keep your rig in top shape. If I only had this fifteen years ago...
---
Add a review
Tell us your experience with
CCleaner Free
4.18
RELATED PROGRAMS
Our Recommendations
---
---
---
---